Mission Statement
2023 Winter Quarter Report
2022 Fall Quarter Report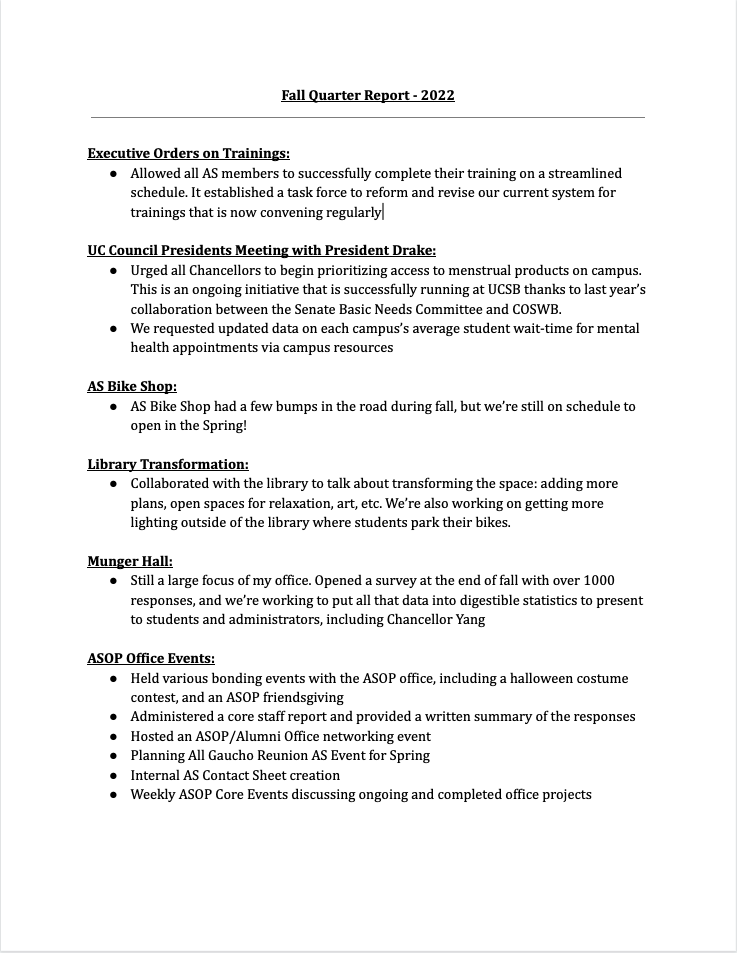 Ongoing Project Updates
Basic Needs Vending Machine
Finalizing a second Basic Needs Vending Machine to provide free food to students. The first vending machine was finalized by presidential predecessor Yuval Cohen and can be found in the Multi-Cultural Center hallway.
The second is a collaboration between ASOP, the AS Food Bank and AS Basic Needs Committee to be established at El Centro.
Transfer Student Lunch & Study Jam
Sandwiches and studying in the Transfer Student Center during Week 5.
Collaboration between TSC and ASOP Transfer Student Coordinator.
Training Accessibility Exec. Order
This Executive Order extended the deadline for the completion of the mandatory AS trainings.
Collaboration with the Commission on Disabled Equality (CODE) to bring PDF versions of all available trainings for members to complete.
Established a Trainings Task Force to increase the accessibility of trainings and update future trainings.
Alumni Networking Event
"Launch Your Network" event was hosted during Week 5 in collaboration with the Director of Alumni Affairs and UCSB Alumni.
Pearman Fellowship
The Pearman Planning Committee spearheaded by the ASOP and IVP Deputy Heads of Staff worked to recruit, interview and place fellows in their respective entities.
Restoration of Legislative Function Exec. Order
Removal of the IVP due to a dismissal of elected duties (as detailed within the order).
The elected EVPLA Hailey Stankiewicz will assume the role of IVP, and EAC Chair Billy Wu will assume the role of IVP in the interim, until a new Internal Vice-President is elected
Called upon the Elections Board to hold a special election by Week 5 of Winter Quarter to fulfill the IVP Vacancy.
Outlined procedures for Summer, Fall and Winter honoraria payments.
Mental Health Paint Night
Painting and Snacks during Week 6 sponsored by the ASOP Mental Health Commissioners and Public Mental Health Commission.
Executive Orders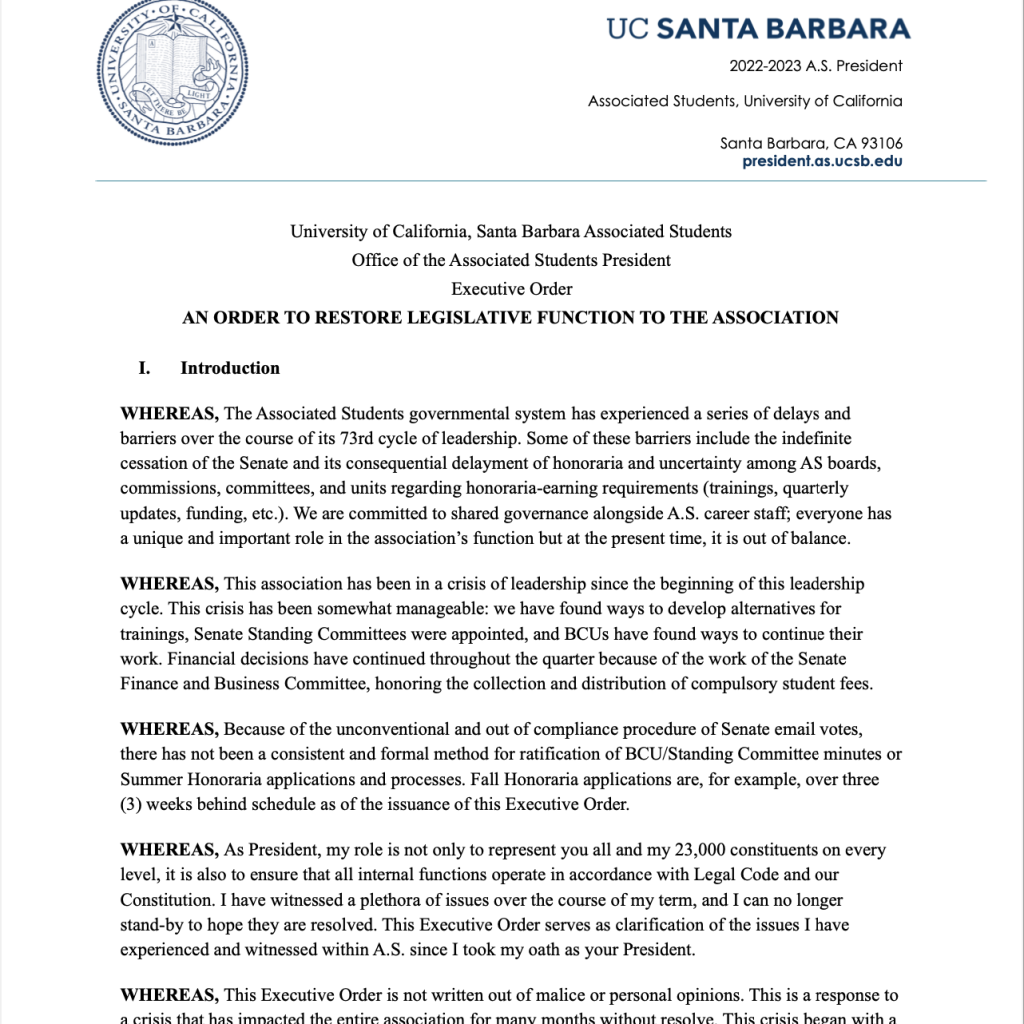 President Gurleen Pabla
Message from Your A.S. President
Hello Gauchos! I am so excited to be your President for the 2022-23 school year. I came to UCSB as a passionate freshman with no idea how to implement the ideas I thought of. Now, my only goal is to ensure that your voices are heard so I can represent your interests and make this campus environment better for your journey.
I want to focus on uplifting the student voice and legitimizing the work I do during my term. My team is excited to work for you all as well, focusing on basic needs, environmental sustainability, mental health resources, and much more. Please contact me using the form below if you have any questions, comments, concerns, or even if you just want to connect. I'm stoked to hear from you and serve you this year!
Please feel free to reach me at: president@as.ucsb.edu